Good news for Nigerian DXN members
January 06. 2020, 16:03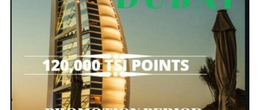 Dear Nigerian DXN members,
We are happy to announce that the next Travel Seminar Incentive Program (2021) will be in DUBAI.


In order to qualify for the TSI 2021, you need to collect 120.000 TSI points at SA level and above in the qualifying period of 12 months, starting January 1, 2020 until December 31, 2020.
Good luck and we hope to see you there!
Back to the previous page!