More than 9.000.000 DXN members
December 29. 2019, 20:05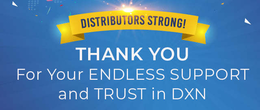 Growing bigger and stronger. DXN is heading into the new decade as the world's top 15 direct selling company and with 9 Million Distributors as part of its global family.
Use this opportunity to achieve all your goals and make all your dreams come true. See you at the TOP in DXN! We wish you a wonderful and prosperous 2020.
Back to the previous page!